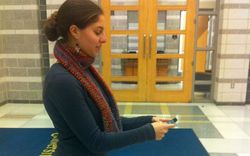 Bethesda, MD (PRWEB) January 10, 2011
Mymoodmonitor.com, the leading website for mental health screening, is now providing a free, mobile version of the M-3 Checklist, a scientifically validated screen for mood and anxiety disorders, in the Apple App store. Adapted from its existing mymoodmonitor.com website, this mobile version, called depressioncheck, provides the same validated mental health questionnaire, developed by a team of mental health practitioners and experts. The app is a simple, easy-to-use checklist and takes approximately three minutes to complete. The screen is validated for those 18 years and older and its accuracy confirmed in the March 2010 Annals of Family Medicine (http://www.annfammed.org/cgi/content/abstract/8/2/160).
Millions of Americans have a diagnosable mood or anxiety disorder every year while fewer than half of these individuals receive help for their condition. One reason for this shortfall has been the absence of a single, simple and reliable screen that can assess the presence of the mood and anxiety disorders, including obsessive-compulsive disorder, panic disorder and PTSD. Depressioncheck is a symptom checklist with which a user may rate his or her mood in one easy review. It is comprised of a short series of questions that touch on indicators of mental health.
Robert M. Post, M.D., Director of the Bipolar Collaborative Network, the 2010 recipient of the NAMI Scientific Research Award, and one of the creators of the M-3 Checklist, explains that, ?The Depressioncheck app is an extremely powerful and efficient way of distributing the M-3 Checklist screen. By going mobile, we can get this researched based screen in the hands of individuals who can take the screen whenever it is convenient for them. When significant symptoms are uncovered, the user receives important confirmation that his or her suffering is not somehow self-imposed, and that there are options to help improve the situation?.
As demonstrated by a 2009 research study at the University of North Carolina Medical School, the screen has the sensitivity to pick up treatable cases that are often invisible to earlier mental health screens, including many individuals who suffer from milder, but overlapping conditions, such as mixed depression and anxiety. Furthermore, it can help distinguished regular depression from the bipolar variety, and thereby avoid a common cause of mistreatment with potentially serious consequences. The customized report provides risk and severity ratings that may serve to guide the user to an appropriate treatment, whether therapy or medication.
For those in distress and at risk for suicide, depressioncheck provides a direct, one-button link to Mental Health America's National Suicide Hotline. Interactive applications of this sort, offering users validated medical assessment and feedback in real-time, have the potential to greatly improve the dynamics of healthcare delivery, reaching many who might otherwise suffer in silence. The value of this technology to college and military populations, among others, is considerable.
The depressioncheck app is available to iPhone (telephone and data) and iPod Touch (data only) users through the Apple applications. An ongoing dialogue about the M-3 Checklist and different aspects of mood and anxiety disorders is provided at the mymoodmonitor Facebook page found at http://www.facebook.com/pages/My-Mood-Monitor/133566943333436. A Spanish language edition and a version for the Droid operating system is planned.
About the M-3 Checklist (the research that is the basis for depressioncheck and Mymoodmonitor.com): Since the publication of the validation article in March, 2010 the M-3 Checklist has been taken by people in over 120 countries and in all 50 states. The M-3 Checklist was validated in a study performed at the University of North Carolina and published in the March 2010 issue of the Annals of Family Medicine. The study was based on the responses of 647 patients at the University of North Carolina Family Practice Medicine Clinic. Current users can screen themselves and track their responses and M-3 score on Microsoft HealthVault via mymmodmonitor.com.
The M-3, which was independently funded and developed, is particularly timely: hospitals, doctors, and patients are preparing to use electronic medical record (EMR) systems to document all health care interactions and the M-3 is the first validated application to use EMR technology developed for mental health care.????
About M-3 Information: The M-3 Checklist was developed by M-3 Information, a team of mental health, strategic communications, and information management experts, including Robert M. Post, MD, head of the Bipolar Collaborative Network; Bernard M. Snyder, MD, assistant clinical professor of psychiatry at Georgetown University and a cognitive behavioral therapist; Michael L. Byer, director of M-3 Information; Barry Rush, a media expert, Larry Culpepper, MD, family practice program at Boston University; Gerald Hurowitz, MD, assistant clinical professor of psychiatry at Columbia University and a clinical psychopharmacologist. Together, they make available for free the M-3 Checklist, a private screener available at http://www.mymoodmonitor.com, and the depressioncheck app. M-3 Information is independently funded and has not received pharmaceutical industry support.
About Barry Rush: Barry is a outdoor media executive with an interest in social solutions that help the Hispanic community. For the last five years he has supported the development of the Spanish language version of the mymoodmonitor.com and the planned Spanish version of the applications at the Apple and Droid apps.
# # #